Dukan Rum Brownie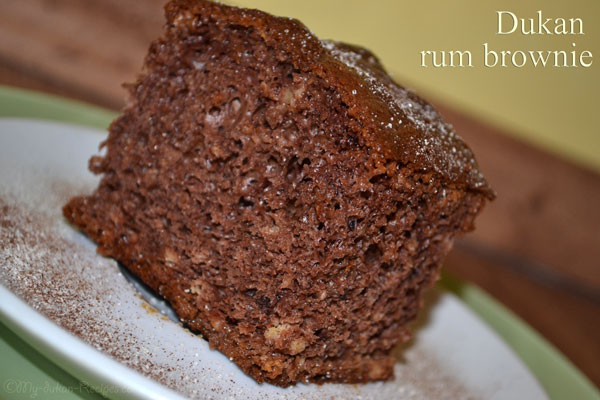 Ingredients:
-3 eggs
- 4 tbsp oat bran
- 2 tbsp wheat bran
- 6 tbsp powder skimmed milk
- sweetener to taste
-2 tbsp fat free yogurt
- 1 tbsp instant coffee
- 1 tbsp defatted cocoa
- ½ tsp baking powder
Syrup ingredients :
-150 ml skimmed milk
- rum essence to taste
- 1-2 tbsp sweetener
How to prepare:
Preheat the oven at 180 C.
Separate egg whites and beat them with a pinch of salt until very firm. Mix the egg yolks with yogurt and pour it slowly over whites foam. Add all the dry ingredients (bran, milk powder, sweetener, cocoa, instant coffee , baking powder) and using a spoon slowly mix composition from top to bottom .Pour the composition into a cake pan and bake it in the oven 30-35 minutes. Leave to cool.
Meanwhile prepare the syrup. Heat the milk and mix it with other ingredients. Use a toothpick to make small holes in the dough and then pour over the syrup ( it's best to leave the dough in the pan you baked it ). Keep the brownie in the refrigerator at least one hour .
Enjoy my dukan recipe!

br>