Rum and goji ice cream
Ingredients:
-4 greek fat free yogurt (4×150 g)
- 100 ml skimmed milk
- 4 tablespoon powder skimmed milk
- 1 egg yolk (optional)
- 3-4 tbsp sweetener
- rum essence
- 2 tbsp goji
 How to prepare:
You can do the ice cream using the ice cream maker (machine) or the clasic way.
First put the goji in some water (room temperature) and rum essence and leave to hydrate for at least 5 minutes.
Drained the goji and mix them with the other ingredients in a bowl.
Place plastic wrap directly on cream mixture, and chill 8 to 24 hours.
Pour mixture into freezer container of a 1 1/2-qt. electric ice-cream maker, and freeze according to manufacturer's instructions. (Instructions and time may vary.)
When ice cream is softly frozen, serve immediately or place a piece of plastic wrap directly on the ice cream and place in freezer to ripen, 2 to 3 hours.
If you do not have an ice-cream maker don`t forget to take the bowl from the freezer and whip for 1 minute and back to the freezer. Repeat about 4 times.
Place in a container with a lid. Store in the freezer.
Enjoy my dukan recipe!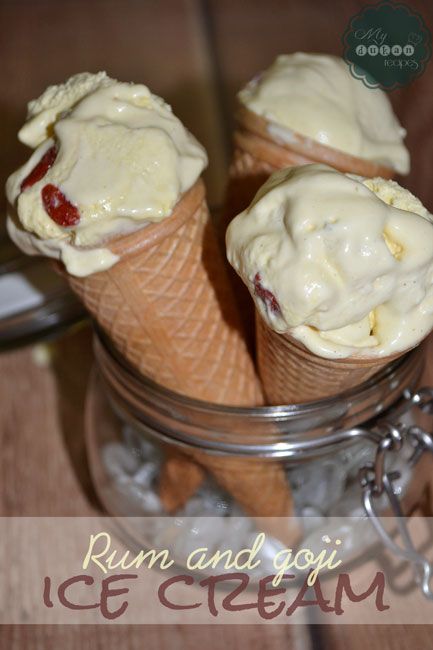 br>