Sweet cheese muffins with goji berries
Ingredients :
-300 g fat free cheese
- 150 g fat free Greek yogurt
- 2 eggs
- 4 tbsp oat bran , preferably finely ground
- 2 tbsp cornstarch (not in atack fase)
- 4 tbsp powder skimmed milk
-3-4 tbsp sweetener
- vanilla flavouring
- ½ tsp dry yeast
- 3 tbsp goji berries
- rum flavouring
How to prepare
Preheat the oven to 180oC/350oF/Gas 4.
Hydrate the goji in some water and rum flavouring for about 10 minutes.
Whisk the the yogurt cheese and eggs. In another bowl, mix all the dry ingredients (oat bran, starch and powder milk). Use a large spoon to gently fold the wet ingredients into the dry – don't overmix, just lightly combine. Add sweetener, vanilla flavouring and dry yeast.
Mix and leave aside for 10-15 minutes. Add the water drained goji.
Using a spoon pour the mixture into 10-12 silicone reusable baking cups.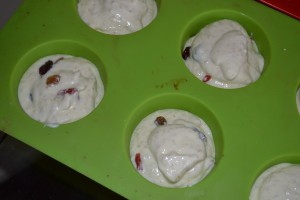 Bake in preheated oven for 30-35 minutes until nicely browned.
Leave to cool 5-10 minutes before removing from the silicone cups.
Enjoy my dukan recipe!

br>