Pizza with chicken for Attack phase and PP days
-1 egg
- 1 ½ tbsp fat free cheese
-2 tbsp oat bran (1 ½ tbsp to attack phase)
- 1 tbsp wheat bran (allowed)
- 1 tbsp skimmed powder milk (allowed up to 3 tbsp/day)
- salt
- garlic flakes
- ½ tsp dry yeast
Topping:
-1 ½ tbsp of fat-free cheese
- 1 egg
- cooked chicken breast cut into small pieces
- ¼ tsp dried thyme
- 1 tbsp flaxseed (cruise tolerated)
How to prepare:
Preheat the oven at 180oC
Beat the egg with the cheese, add bran and milk powder, salt, yeast and garlic flakes and lay on a sheet of baking paper or silicone one. Make a circle with a diameter up to 20 cm. Cook in the oven for about 7 minutes.
Prepare the topping. Beat the egg with the fat free cheese and add thyme.
Remove the pan from the oven (do not turn of the oven), put the chicken on top, add the cheese and egg mixture. Sprinkle flax and cook in the oven for about 10-12 minutes.
If you are at PV days you may add sliced peppers and mushrooms.
Enjoy my dukan recipes!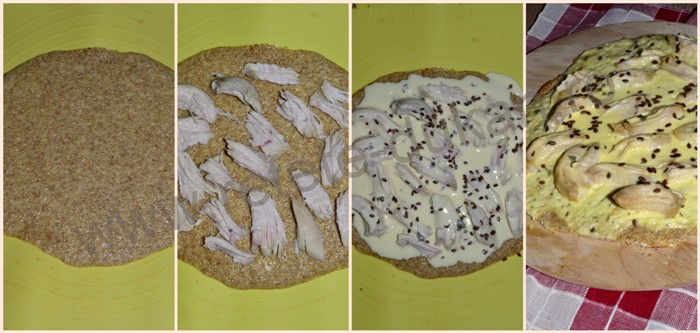 br>